Background music consistency
at scale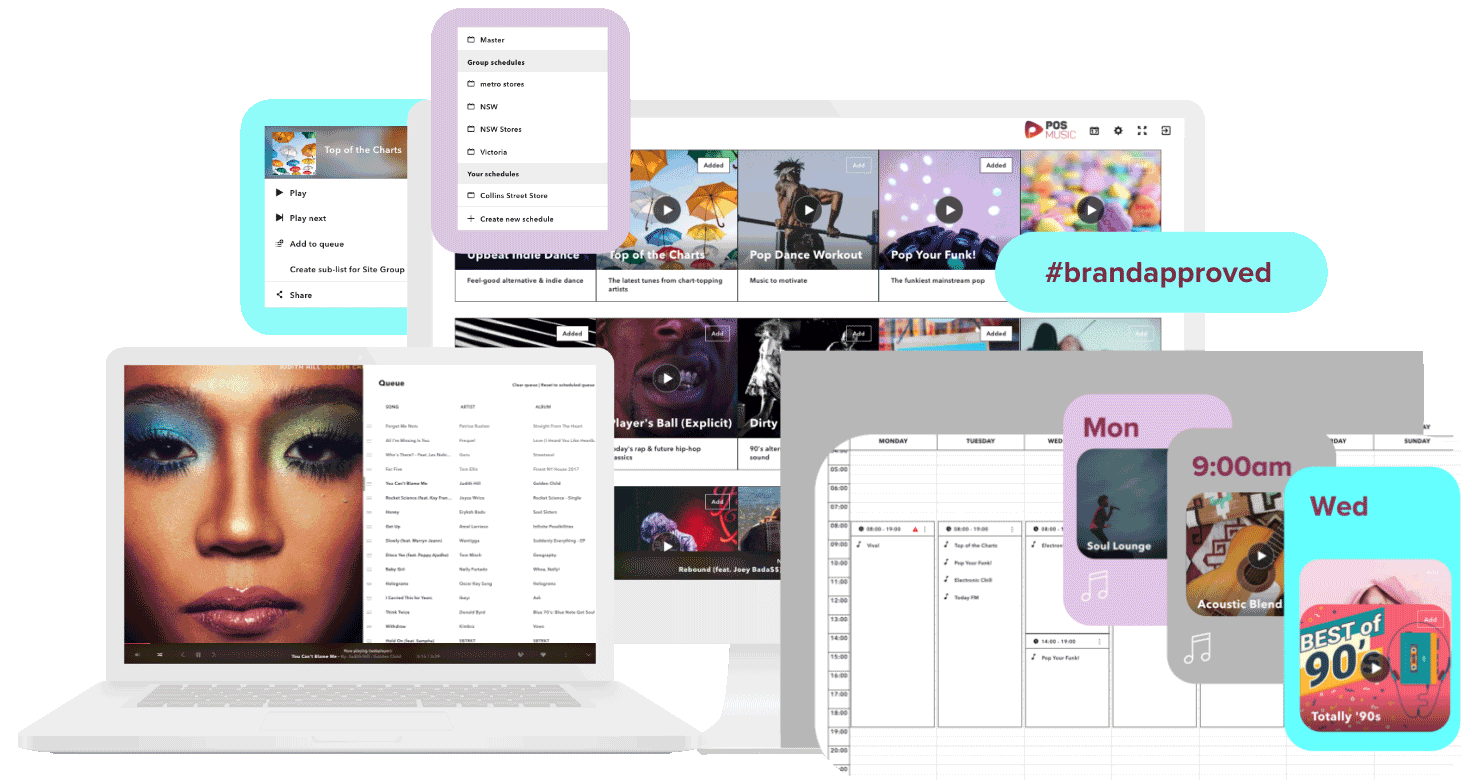 For multi-site brand networks and franchise businesses
11 - unlimited sites
Simply stream, schedule mix and control perfectly curated background music playlists across a multi-store network.
Perfect for businesses, brands and franchises with over 10 sites.
Enjoy unlimited music, store locations and in-store user accounts. Utilise your very own in-store audio promotion ad network and gain access to add-on features including our customer engagement app, bespoke music curation services, in-store activations and music programming.
Unlimited music and consistency at scale
Enjoy the best unlimited, legal background music across your multi-site brand or franchise network. Simply select and stream over 100 professionally curated readymade playlists created for every mood and setting, or get in the mix by blending music, creating playlists or scheduling music by the time of day or day of week.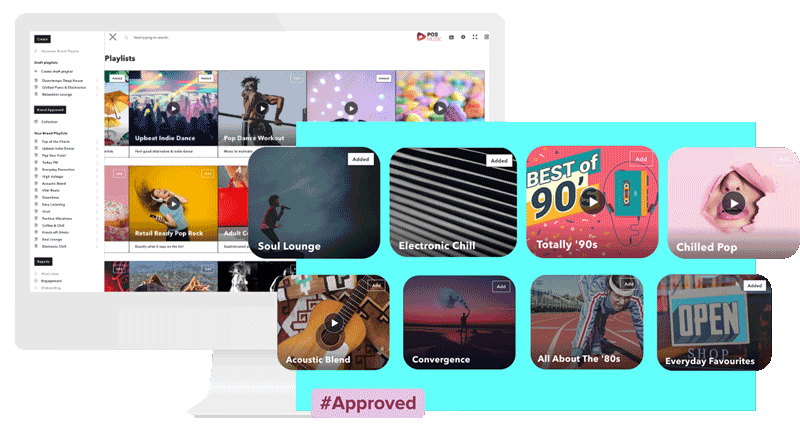 Scaleable centralised mult-site network control
Forget fiddly background music CDs. Manage and control your local, national or global in-store music at a single store, or multiple locations via your POSenterprise admin account accessible via the POSmusic desktop or web-app on any internet-connected device. Create a single-store account or multiple sites. Add locations in minutes as your business grows.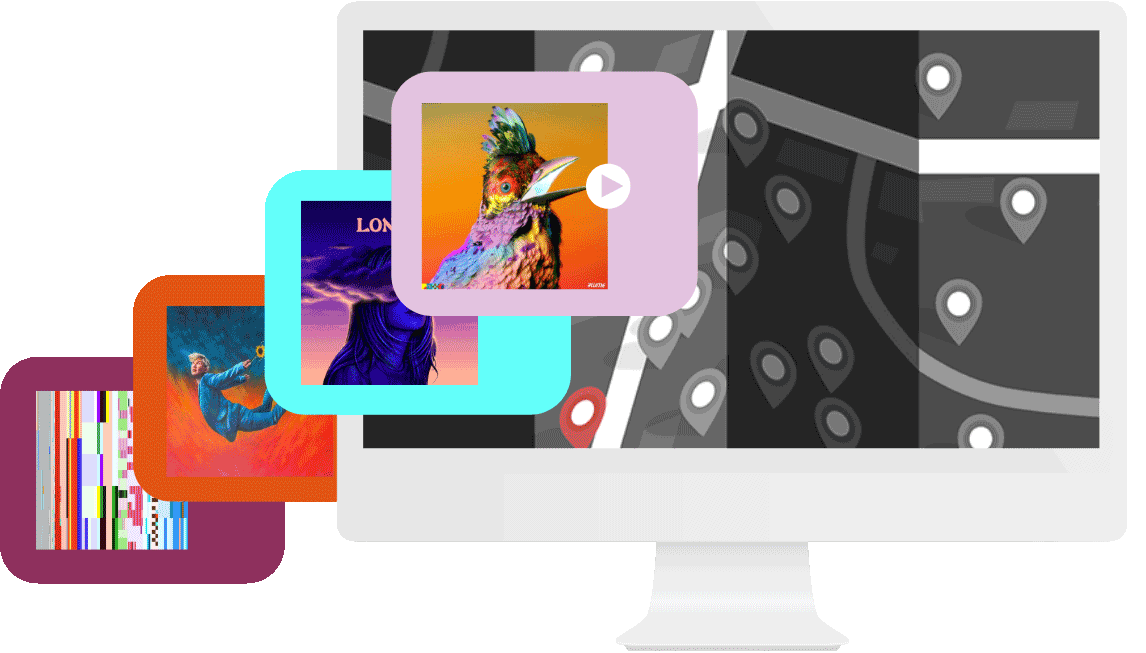 Simple automated music scheduling by location, time of day or day of week
Automate music scheduling across your entire network or create custom schedules for targeted sites. Tailor music schedules by the time-of-day or day of week to match your brand, trade rhythms and customer tastes, or create custom schedules to suit local area marketing, giveaways, promotions or special events.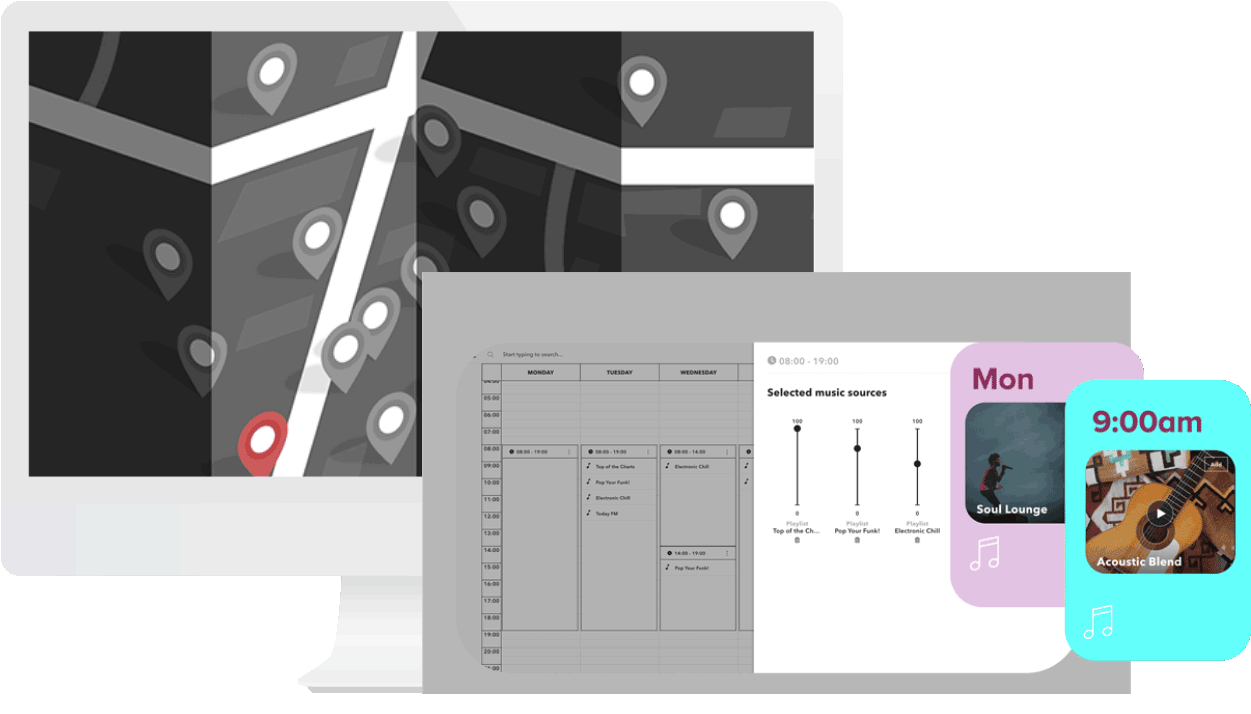 Remotely monitor and control in-store music and staff user privileges
Create unlimited Store Accounts and control music at a single site or across your brand or franchise network from any internet-connected device. Add optional, Staff User Accounts to allow nominated team members to manage the in-store music mix. Assign in-store staff privileges and set different levels of access to interactive music features and control.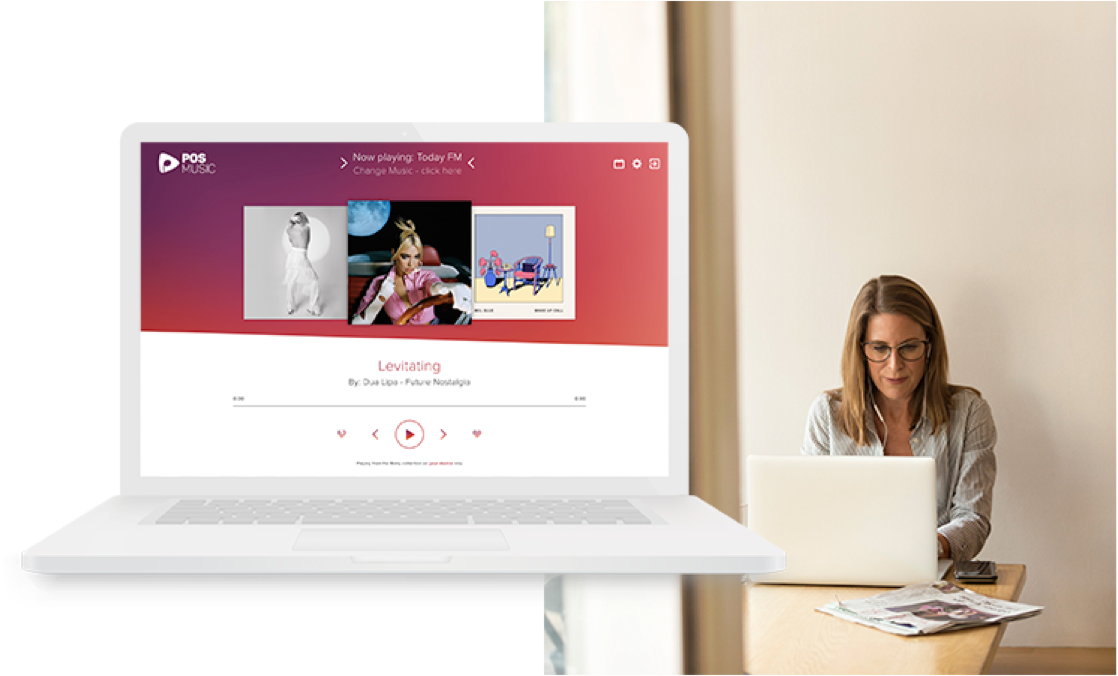 Amplify brand messaging with your own powerful audio ad server
The POSmusic Audio Ad Server is a power advertising network at your fingertips. Schedule 10-15 second audio promotions or ads into your background music mix by time-of-day and day-of-week. Simply and easily schedule and deliver brand messages, promo content, publicise events, promote sales and run giveaways.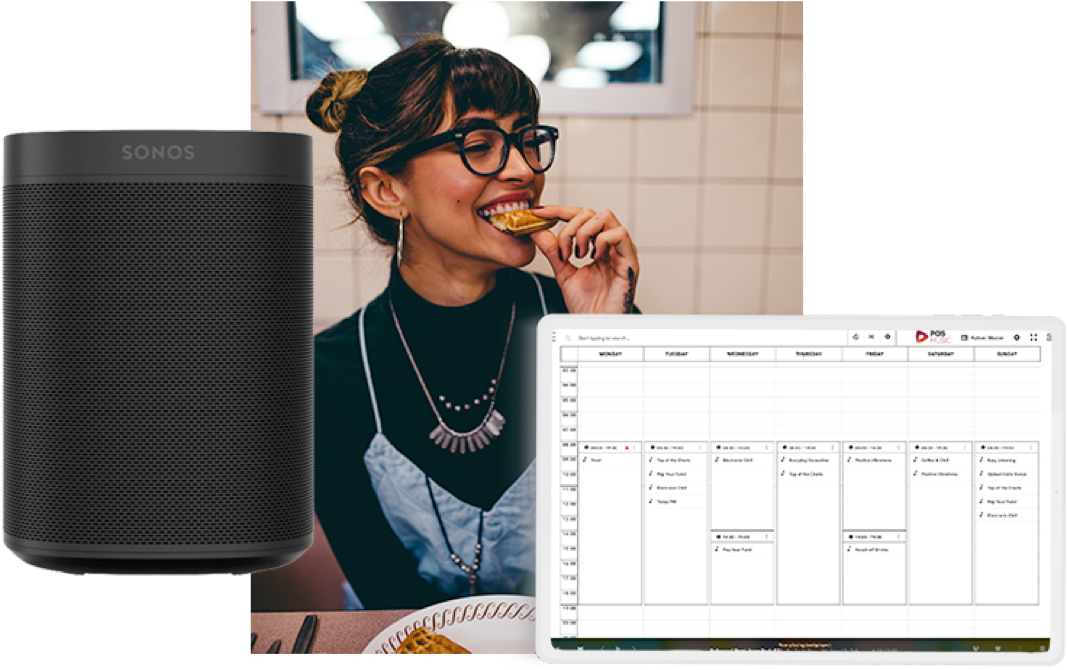 Background music consistency at scale
Simple multi-site install & setup with no new equipment or tech knowledge needed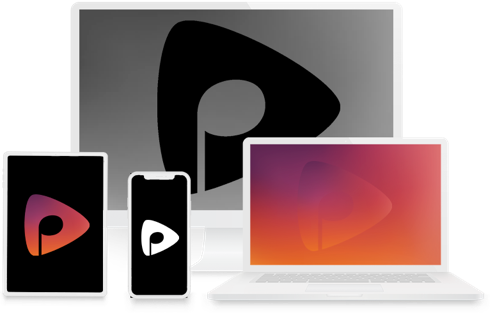 Control your music from anywhere
Manage and control your in-store music at a single store, or multiple locations via your POSmusic admin account dashboard accessible on any internet-connected device.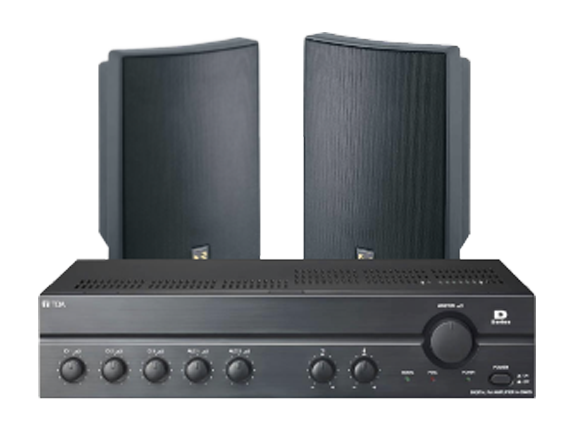 Connect POSmusic to your existing sound system
Connect your desktop, laptop, tablet, POS or tablet device to any existing in-store sound system to stream POSmusic instantly, no new equipment needed.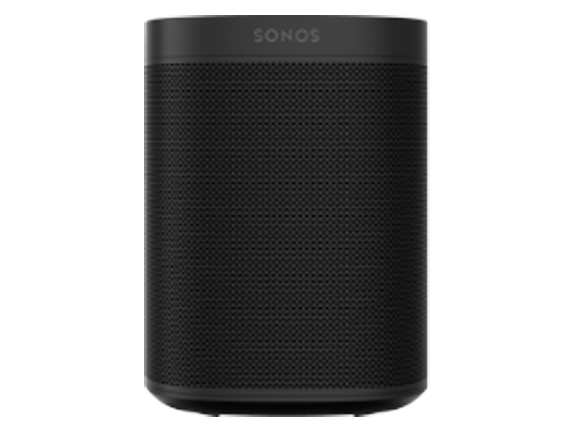 Stream it on Sonos speakers
Simply stream POSmusic using any Sonos speaker by selecting POSmusic via the Sonos app.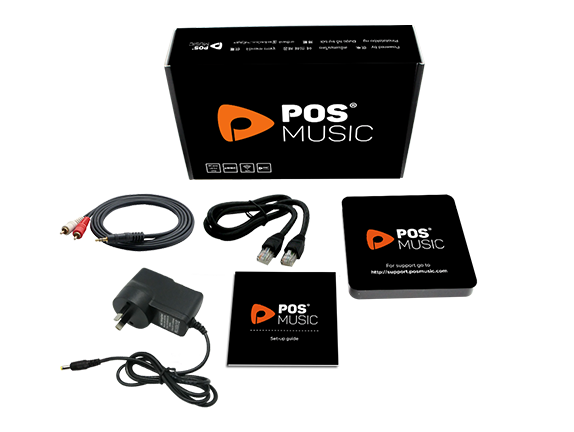 Or play POSmusic offline with our commercial grade media player
Play POSmusic offline to free up your internet by connecting your chosen device and sound system with the POSmusic PROplayer.
Explore POSenterprise add-ons
Music curation
It's not about having every song in the world, it's about having the right mix for you.
POSmusic offer a bespoke music curation service for a truly unique brand sound experience. Our music experts will work with you to build your signature sound based on your brand personality and tailored to your customer demographic.
Customer app
Stay connected in-store and beyond with our customer engagement app.
Allow customers to DJ the music in-store by selecting and queueing tracks from a pre-approved library of music or to continue listening at home via the POSmusic customer app. Encourage customers to engage with venue promotions and to 'like' and 'dislike' tracks to help improve your playlists.
Audio visual control
Sync your background music, audio promos and digital video displays.
Enjoy seamless control over campaign audio/visual scheduling by leveraging the POSmusic API. Programme audio and video content to sync and play simultaneously without interrupting your background music mix.
In-store / venue activations
The creative engagement possibilities are endless with POSmusic in-store activations.
Deliver in-venue augmented reality activations that combine curated playlists, brand audio messaging and the POSmusic customer engagement app.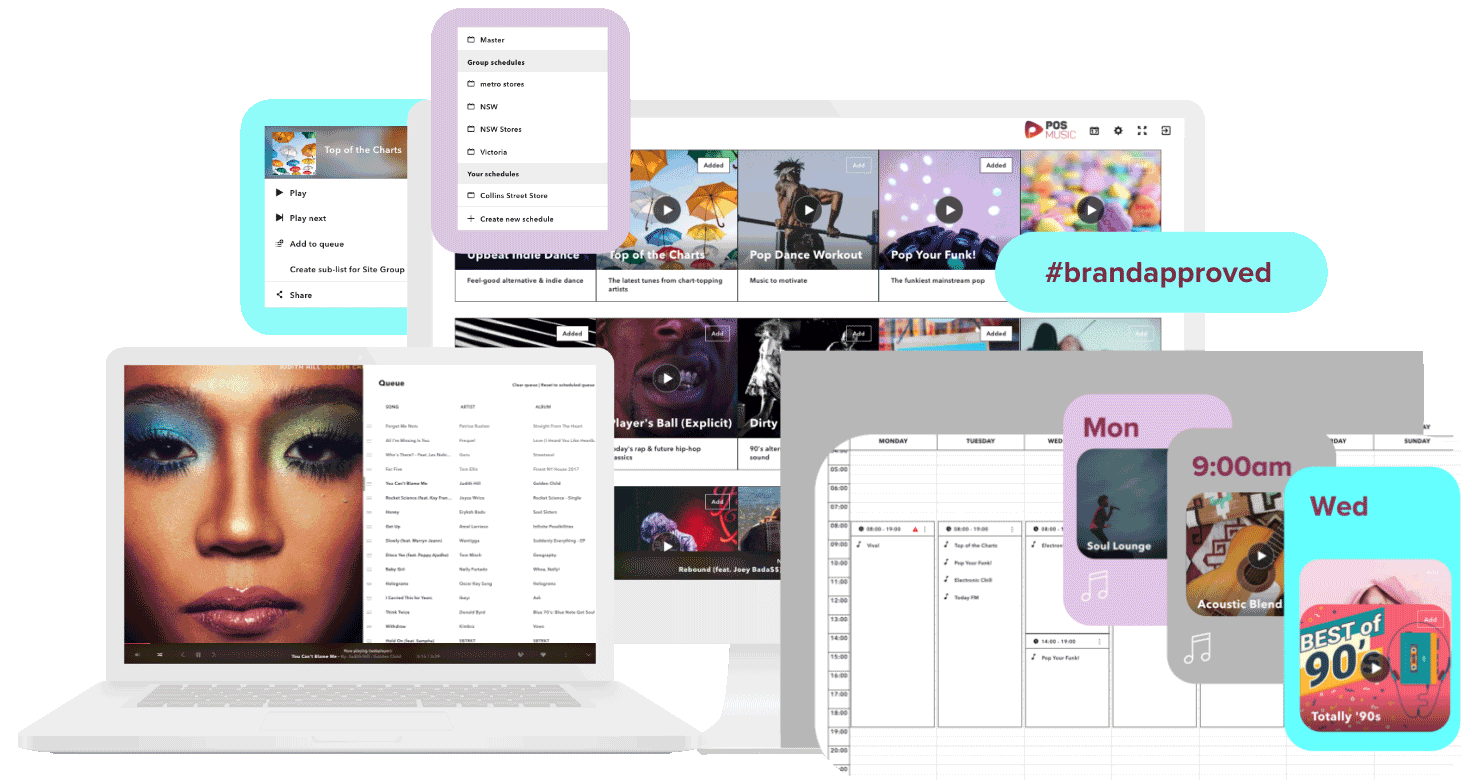 POSenterprise subscription features
Enjoy all our POSmix subscription features, plus unlimited store locations and staff user accounts, as well your own in-store audio promo ad network. Gain access to add-on features including our customer engagement app, bespoke music curation services, in-store activations and music programming ad-ons. Perfect for businesses, brands and franchises with multi-site local, national or global store networks.
Control your music in-store, from head office, at home or your mobile on the run via your POSplay account dashboard, accessible from any internet-connected Mac or Android device.
POS
enterprise
11 - unlimited sites
Contact us
Features
Unlimited access to 53 million songs and over 70 always fresh, professionally curated playlists
In-store control features: skip, play, pause, like, dislike song features
Daily music updates
POSmusic scheduler
POSmusic mixer
POSmusic ad server
Remote control features: skip, play, pause, like, dislike song features
Social media integration
Unlimited Admin User Account
Unlimited Staff User accounts
Online customer support
Music curation service - add ons
Music programming support - add ons
Audio ad management support - add ons
In-store activation - add ons
Customer engagement app - add on
*End-user Public Performance License Fees Not Included in POSmusic Subscription Fee.
Common POSenterprise questions
How many playlists do I have access to?
With a POSenterprise subscription, you have unlimited access to 100 + professionally curated playlists for every business type, mood and setting.
How many songs are in a playlist?
Each POSmusic playlist contains anywhere from 300 to 1000 songs.
How many hours does a playlist last for?
Anywhere from XXX hours of non-stop music.
Do I need to purchase a PROplayer to use POSmusic?
No, you can play your POSplay service from any internet-connected Mac or Andriod desktop, laptop, point-of-sale, tablet or Smartphone device using the POSmusic desktop or mobile app.
Can I play POSmusic on my SONOs speakers
Yes, you can instantly play POSmusic on any internet-connected SONOs speaker using the POSmusic service, available via the SONOs app.
When will I be billed?
You will be billed on a monthly. If you choose to bundle your music licensing fees – this amount can be bundled monthly or annually with your POSmusic service subscription fee.
Are my licensing costs added to my monthly subscription bill?
In Australian and New Zealand, if you bundle your music licensing with POSmusic, then yes, your music license fees will be added to your monthly or yearly POSmusic invoice.
Are there any cancellation costs?
No, you can cancel your POSenterprise subscription at anytime, with zero cancellation fees. If you have leased a POSmusic PROplayer it must be returned in good working order.
Still need time to think?
Check out
POSmusings
Subscribe to our newsletter